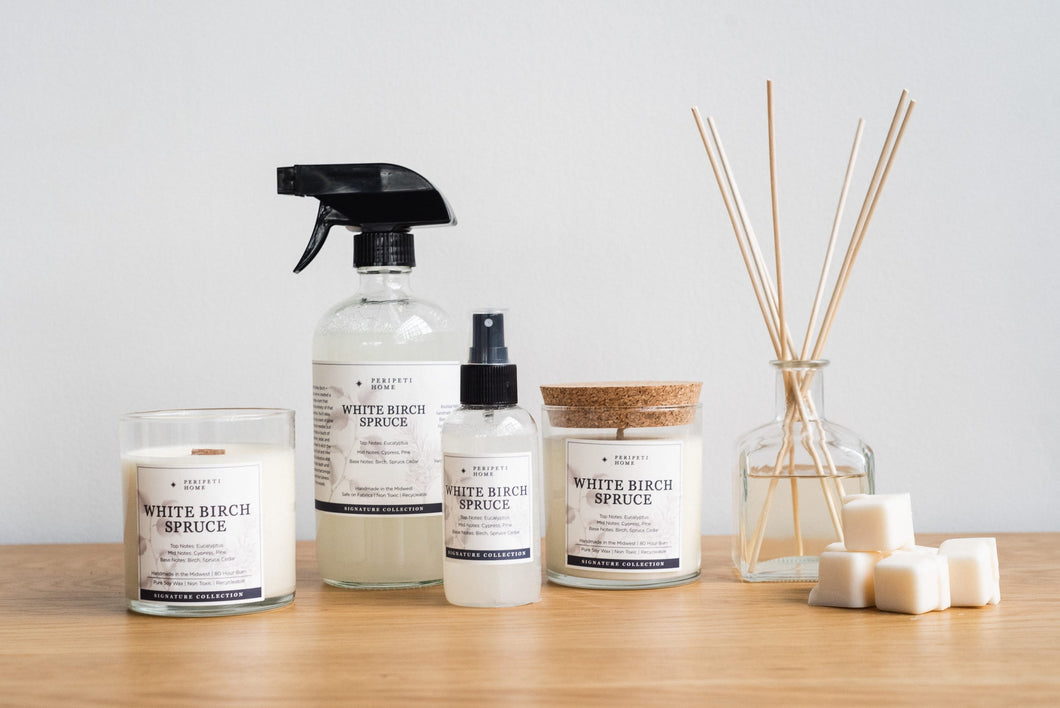 White Birch + Spruce
Regular price $28.00 Sale
White Birch + Spruce
Be transported to the forest floor where magical sunlight dapples the ground and wind whispers through pine trees. The air is clean and fresh with a hint of sweetness to it. 
With White Birch + Spruce, we've created a complex scent that mimics the entirety of that experience. You'll relax into the cozy scent of pine and spruce needles but also notice a touch of cinnamon, cedar, and tonka bean to elicit the aroma of soil and tree trunk. Eucalyptus and mint add depth and sweetness that brings to mind the fullness of the woods.
Blended in-house with high-grade essential oils and all-natural scents. Spruce essential oil is naturally air purifying.
Scent Story + Symbolism:
White Birch symbolizes hope and new beginnings while Spruce represents resilience and strength, a lovely fragrance to help us reconnect in our daily lives.
Top notes: Eucalyptus, Mint, Cinnamon
Mid notes: Cypress, Moss, Pine
Base notes: Birch, Spruce Cedar, Smoke, Tonka Bean
Note: Preview image is representative only. You will receive the specific product you choose from the dropdown menu.


Product Details:
Candles
Classic wicks

 

are cotton + non-toxic
Wooden wicks

 

provide a crackling ambiance + beautiful wide flame

Completely non-toxic, clean burn

Pure soy wax

Made of 100% US sustainably grown soy

Free of sulfates, phthalates, dyes, zinc, or lead

Scent will fill a room up to 500 square feet
Reed Diffusers

Provide continuous fragrance for 7-9 months

Will fill a room up to 300 square feet

VOC free
Room Sprays

Can be used as an air freshener
Safe on fabrics
16oz glass and 4oz plastic options available
Wax Melts

Work in any electric burner

Provide 70+ hours of fragrance

Pure soy wax