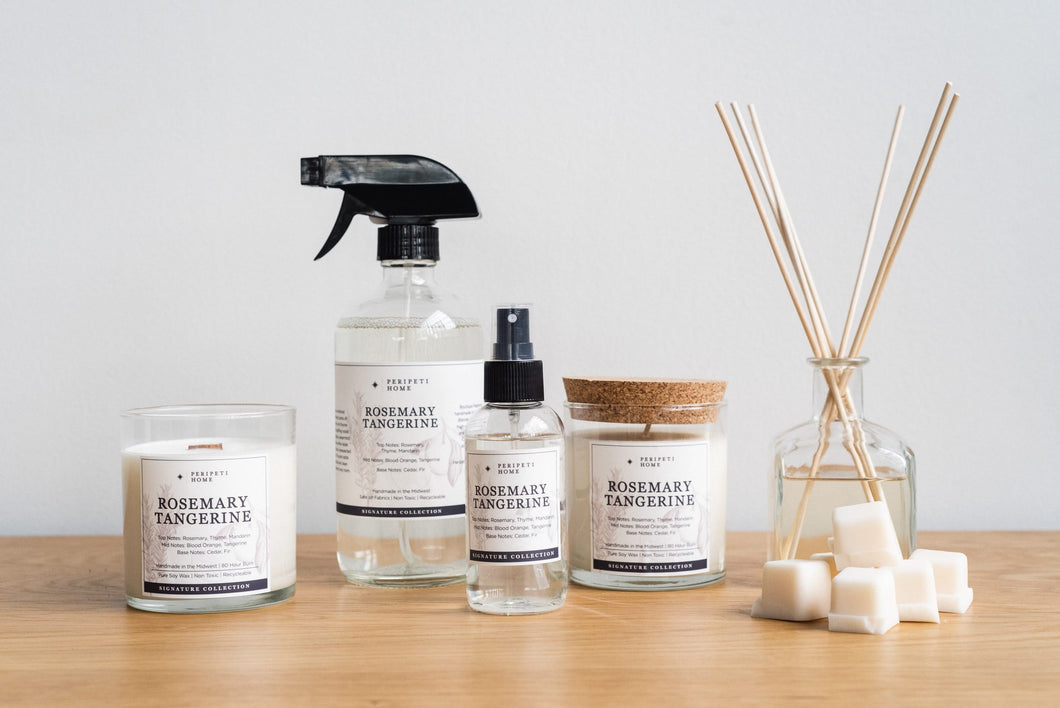 Rosemary Tangerine
Regular price $28.00 Sale
Rosemary Tangerine
As classic and elegant as a string of pearls, Rosemary Tangerine will instantly add an air of sophistication to your space. As this scent fills the room, pour yourself a martini, turn on Breakfast at Tiffany's, then sink into deep herbal tones elevated with bright, sweet tangerine. 
 We've combined the refined scents of rosemary and thyme with the uplifting notes of eucalyptus, spearmint, and citrus while cedar and fir add an unexpected depth. This scent adds a graceful and clean atmosphere to any room.
 Blended in-house with high-grade essential oils and all-natural scents. Rosemary essential oil is naturally air purifying.
 Scent Story + Symbolism:
Rosemary is associated with remembrance and the essential oil is said to increase focus and memory while Tangerine is associated with new projects and happiness, making this the perfect scent for new beginnings or finishing projects.
Top notes: Rosemary, Thyme, Mandarin
Mid notes: Eucalyptus, Spearmint, Blood Orange, Tangerine
Base notes: Cedar, Fir
Note: Preview image is representative only. You will receive the specific product you choose from the dropdown menu.


Product Details:
Candles
Classic wicks

 

are cotton + non-toxic
Wooden wicks

 

provide a crackling ambiance + beautiful wide flame

Completely non-toxic, clean burn

Pure soy wax

Made of 100% US sustainably grown soy

Free of sulfates, phthalates, dyes, zinc, or lead

Scent will fill a room up to 500 square feet
Reed Diffusers

Provide continuous fragrance for 7-9 months

Will fill a room up to 300 square feet

VOC free
Room Sprays

Can be used as an air freshener
Safe on fabrics
16oz glass and 4oz plastic options available
Wax Melts

Work in any electric burner

Provide 70+ hours of fragrance

Pure soy wax