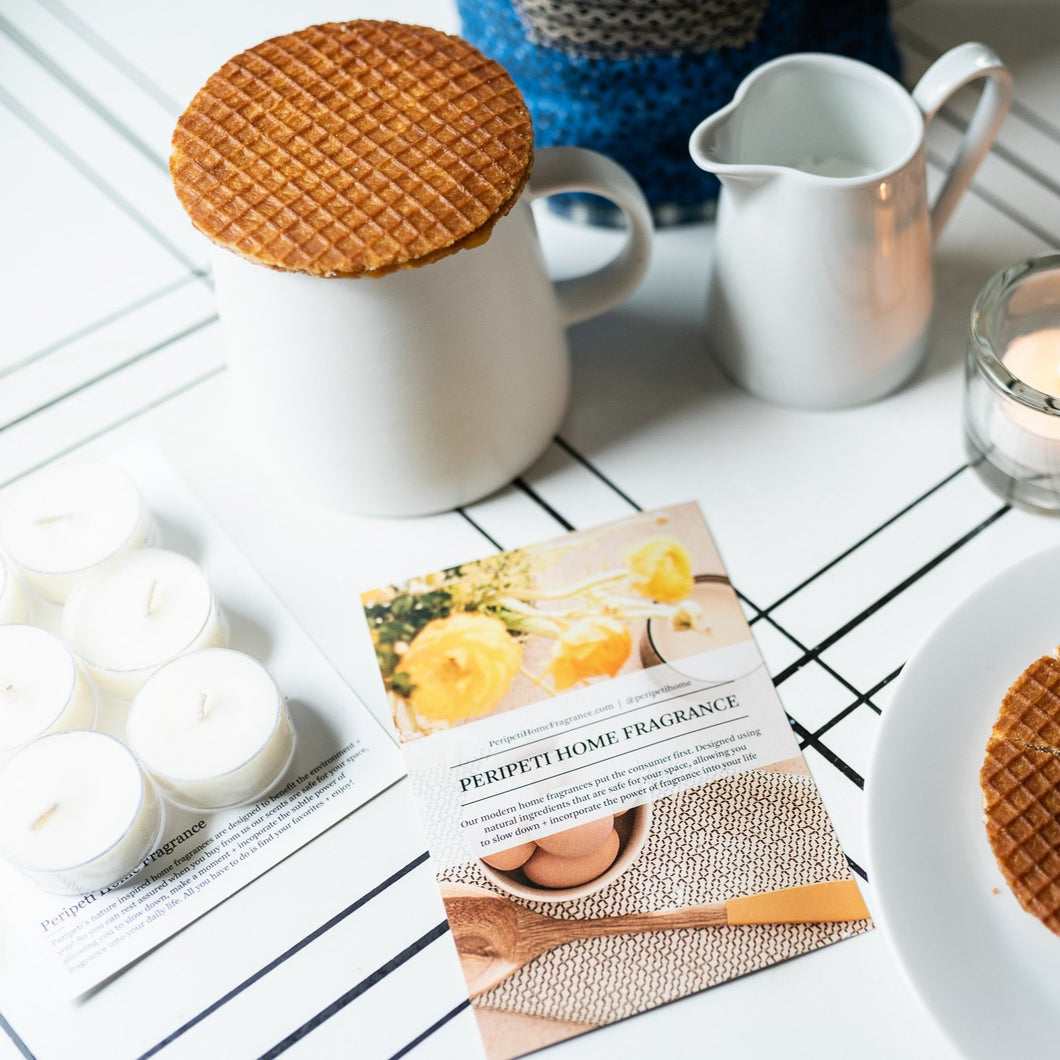 Signature Sample Set
Regular price $0.00 $12.00 Sale
Not sure what fragrance to try first?  Our Signature Sample Set is the answer!  
This collection is inspired by the idea that the design of every space should start with something special. Our Signature Collection is a collection of versatile fragrances designed to work in any space, in any season, and in any room.
Rosemary Tangerine // Grapefruit Vanilla // Tobacco Apricot // White Birch + Spruce // Lavender Lilac // Sea Salt Jasmine!


Product Details:
Includes 6 tealights - one for each of our signature scents.


Scent Notes:
Grapefruit Vanilla
Top notes: Grapefruit, Raspberry, Mandarin

Mid notes: Lemon Verbena, Lemongrass, White Tea, Cucumber, Jasmine

Base notes: Vanilla, Ylang Ylang
Lavender Lilac
Top notes: Lilac, Bergamot, Lemon

Mid notes: Lavender, Green Leaves

Base notes: Cedar, Sandalwood
Rosemary Tangerine
Top notes: Rosemary, Thyme, Mandarin

Mid notes: Eucalyptus, Spearmint, Blood Orange, Tangerine

Base notes: Cedar, Fir
Sea Salt + Jasmine
Top notes: Sea Salt, Sage

Mid notes: Water Lily, Jasmine, Beach Juniper

Base notes: Driftwood, Cedar, Musk, Geranium
Tobacco Apricot
Top notes: Citrus, Apricot, Tobacco Leaf

Mid notes: Carnation, Wild Orchid, Tonka Leaf

Base notes: Amber, Oak, Cherry Wood, Cedar Wood, Clove, Vanilla
White Birch + Spruce
Top notes: Eucalyptus, Mint, Cinnamon

Mid notes: Cypress, Moss, Pine

Base notes: Birch, Spruce Cedar, Smoke, Tonka Bean