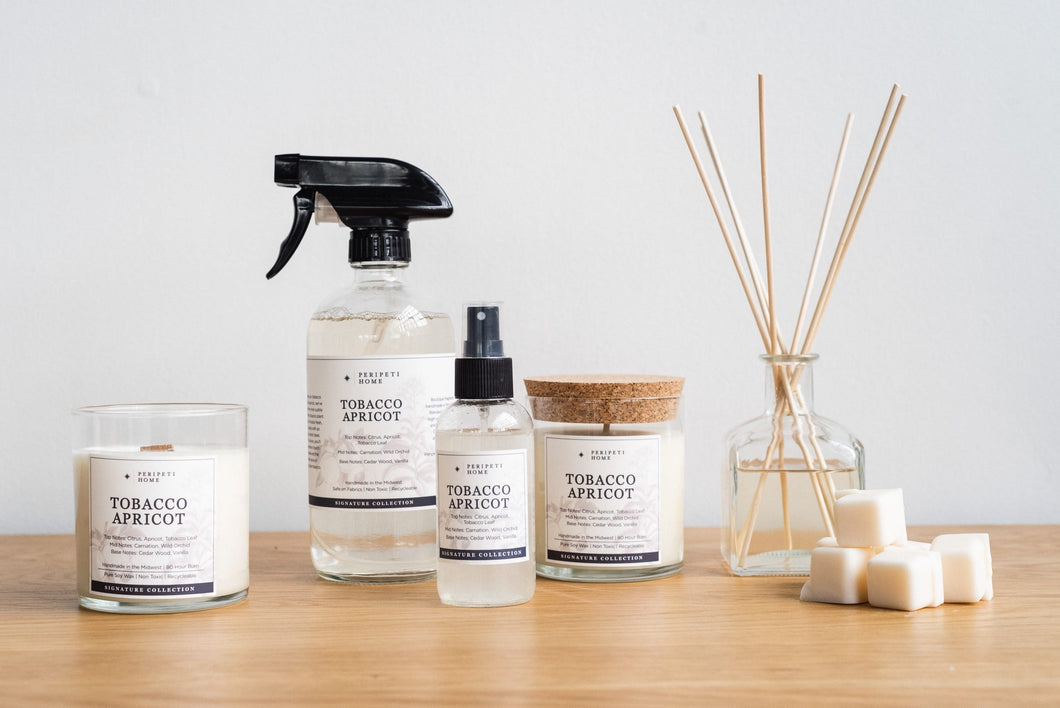 Tobacco Apricot
Regular price $28.00 Sale
Tobacco Apricot
This unique scent is relaxed elegance. It's cozy, mahogany libraries, cardigans with patches on the elbows, flannel blankets and rich, leather couches. It's sitting on a Persian rug while your grandpa reads from Longfellow and smokes his pipe by a roaring fire. And it's also one of our best sellers.
By pairing our tobacco scent with apricot, we've elevated the more subtle traits of the tobacco plant itself. You'll notice fresh, green notes with an amber, woody base. And, of course, you'll experience a touch of smoke and the sweet spice of Cuban pipe tobacco. 
Blended in-house with high-grade essential oils and all-natural scents. 
Scent Story + Symbolism:
The tobacco plant is symbolic of relaxation, healing and peace while apricots represent abundance making it the perfect scent for a turning point or time of healing.
Top notes: Citrus, Apricot, Tobacco Leaf
Mid notes: Carnation, Wild Orchid, Tonka Leaf
Base notes: Amber, Oak, Cherry Wood, Cedar Wood, Clove, Vanilla
Note: Preview image is representative only. You will receive the specific product you choose from the dropdown menu.


Product Details:
Candles
Classic wicks

 

are cotton + non-toxic
Wooden wicks

 

provide a crackling ambiance + beautiful wide flame

Completely non-toxic, clean burn

Pure soy wax

Made of 100% US sustainably grown soy

Free of sulfates, phthalates, dyes, zinc, or lead

Scent will fill a room up to 500 square feet
Reed Diffusers

Provide continuous fragrance for 7-9 months

Will fill a room up to 300 square feet

VOC free
Room Sprays

Can be used as an air freshener
Safe on fabrics
16oz glass and 4oz plastic options available
Wax Melts

Work in any electric burner

Provide 70+ hours of fragrance

Pure soy wax